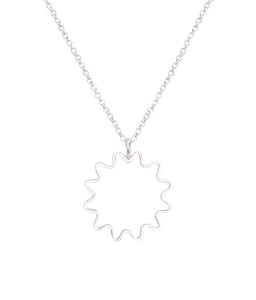 The Mini Ondulée Pendant is the perfect everyday addition. It is available in
recycled silver on a sterling silver chain or 18ct gold vermeil on a 9ct solid gold
chain. Necklace length is 18 inch.
Olivia Taylor is a designer and jewellery-maker based in Glasgow, Scotland. After
graduating from Glasgow School of Art on 2019, she created a brand of timeless,
contemporary jewellery, translating her love for Japanese architecture and fine
jewellery into a new form of statement pieces.
The Ondulée collection - 'Ondulée' translates from French as corruagted - is a
continuation of Olivia's debut Degree Show collection. Each piece has her signature
Ondulée design which catches the light beautifully. Every piece is hand made by
Olivia herself using recycled silver and ethically soured precious metals, and
therefore each individual piece is exclusive and special.
31A Duke Street London W1U 1LS United Kingdom