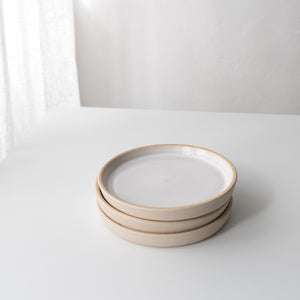 These side Plates are lovely for breakfast, lunchtime, and dinner. They make perfect little snack plates too, for fresh fruit, homemade cake, and warm crusty bread. We even made a candle display with some of ours to create a beautifully cosy centerpiece. 
Designer: Sharron Page Stocks
Dimensions: Ø16 H2 CM
Origin: Handmade in St Ives, Cornwall
Hand thrown and glazed! Every piece is just a little bit different.
CARE
Hand washing is advised; microwaves and ovens are not recommended.
31A Duke Street London W1U 1LS United Kingdom