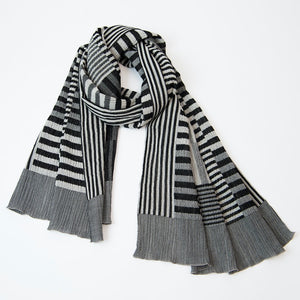 Fabric Name : Colour Plate
Material : Wool 100%
Technich : Double weaving
Size : W60×L200cm
Colour : White & Black
[About NUNO]
At Nuno—which is Japanese for fabric—we blend the traditional and the contemporary. Since our start in 1984, Nuno has worked exclusively with weavers and dyers in Japan, combining old practices with new technologies to create textiles that are original, distinctive, and fresh. We are honored that Nuno designs are in the collections of major museums around the world.
NunoWorks was launched in 2002 as a showcase for hand-printed textiles—silk-screened, stamped, or stenciled—that are bold and modern. As we go forward, our energies are focused on taking the next step for Nuno.
At Nuno, textiles are our language, our inspiration, our aspiration. Textiles tell our story.
When we create our textiles, nature and tradition are woven with technology.
When we see our textiles, a moment of the future is glimpsed.
When we touch our textiles, they breathe and we feel at ease.
When we listen to the language of textiles, the message is beautiful.
(ki:ts) London shop 
31A Duke Street London W1U 1LS United Kingdom