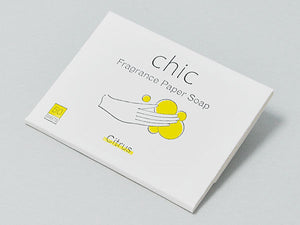 This is a paper soap sheet made of washi. Washi is Japanese traditional paper made of Manila hemp. It is used dissolving the paper soap sheet in the water. Good for travelling. Of course for daily. You can carry it in your bag whenever.
Size:85×67(mm)
Material:Paper
Sheet:50
Fragrance: Citrus
<How to use>
-Put your hands in the water.
-Lather your hands by rubbing them together with the paper soap.
<Attentions >
*Pick the sheet up with dry hands.
*Keep away from high temperature and humid and under rapid temperature change.
*Do not use when you have a skin problem or if you don't feel comfortable.
<about the project "chic">
Matsuhisa Eisuke Kamiten collaborated with PAPIER LABO., which has original products and products from the world related paper. They have started the project when Mr. Eto who founded PAPIER LABO. visited Matsuhisa Eisuke Kamiten. They are looking for a potential of paper.
(ki:ts) Londonshop
31A Duke street, London, W1U 1LS, UK