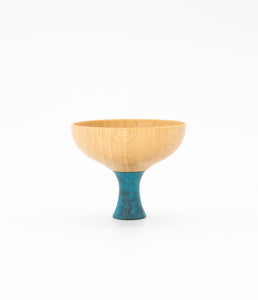 Guinomi Sake Cup HAI
Stylish and unique sake cup made of a combination of wood and metal.
"HAI" is designed in the motif of a "sake cup", which is associated with toasts, trophies, and other occasions of festivity.
Smooth lines lead from the narrow, nubby foot. The weight of the brass gives it a novel and stable proportion. The soft mouthfeel of the wooden cup and the pleasant weight of the brass stimulate the senses beyond the taste. Not only will it make a great gift for a loved one, but it also raises the quality of your own time to treat yourself.
・Description
Materials: Natural wood, Brass
Dimensions (mm): φ60×H50mm
Weight (g): 40g
Volume (ml): 35ml
Surface Protections: Acrylic for tableware, Liquid glass
・Handling Precautions
・In pursuit for higher quality, the product's specification, color, price are subject to change without prior notice.
・Colors shown on this website may alter from true color due to display limitations.
・All products are hand-made by artisan. Please allow each to have slightly different finish.
31A Duke Street London W1U 1LS United Kingdom