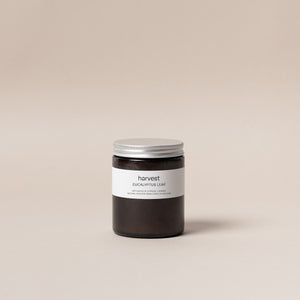 <CANDLES> 
<EUCALYPUS LEAF CANDLE>
The evergreen healing elements of eucalyptus leaves are distilled with a blend of cleansing oils, evoking the cool shade of hill-side trees on a sunny day. This restorative scent is balanced with notes of bitter-sweet orange and wild herbaceous cypress.
MOODS: restorative, herbaceous, evergreen, cooling.
Burn time approx 35hr.
Harvest candles are made using soy wax, which gives a much cleaner burn than regular paraffin wax candles as it is non-toxic, a renewable source, natural and burns longer. This makes it a much friendlier candle to burn in your home. Our wicks are made with eco-friends cotton coated in soy wax which again, help with an even, clean burn. They are each fragranced with a blend of organic essential oils and natural fragrances, giving you a higher quality of scent. 
Contains: cotton wick, vegetable wax, organic essential oils of eucalyptus, cypress, sweet orange, peppermint.
7oz.
Handmade in England.
31A Duke Street London W1U 1LS United Kingdom